Hopes high for stability as polls open in Central African Republic
Comments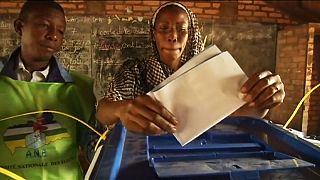 More than 1.8 million people are expected to vote in elections many hope will bring stability to the Central African Republic.
The polls opened December 30, with 30 candidates hoping to take over from interim leader, Catherine Samba-Panza.
In power from 2014, the transitional government led the CAR to the much-delayed presidential and parliamentary elections.
On December 13, 2015, the country voted in favour of a constitutional change. The ballot was considered a test for the viability of national elections.
The vote followed years of sectarian violence in the majority Christian country, provoked by the seizure of power by the Muslim Seleka alliance in March 2013.
Presidential frontrunners
There are three frontrunners for the presidency.
Anicet Dologuélé is among two former prime ministers in the running.
He was succeeded in 2001 by another current presidential favourite, Martin Ziguélé. Both served under the presidency of the late Ange-Felix Patasse, who was ousted and fled the country in 2003.
He was the CAR's first president to be chosen in what was widely considered a fairly democratic election.
Karim Mekassoua is the third presidential favourite. A Muslim, he was a minister under President François Bozizé's administration until the Seleka rebels took power.
Peacekeepers deployed
United Nations peacekeepers have been deployed in sensitive areas, while national armed forces are keeping an eye on polling stations in the capital.
A second round of elections is probable, according to observers. This would be likely to be held before the end of January.