British couple found guilty of bomb plot and supporting ISIL
Comments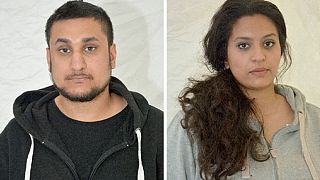 A husband and wife have been convicted in Britain for planning a terrorist attack.
Mohammed Rehman and Sana Ahmed Khan pledged allegiance to Islamic State, and on twitter Rehman demanded advice from his followers on what were the best targets to bomb, the Westfield shopping centre, or the London Underground.
"He represents a worrying trend in the development of terrorism in this country. On the one hand, you see groups and clusters of individuals who conspire together, often with connections internationally to either al Qaeda or ISIS. On the other hand, you're seeing also the development of individual lone wolves, like Mr. Rehman who is self-taught, who decide of their own volition that although they are not connected to anyone else, they have a jihadist mission to pursue," said lawyer Jo Sidhu.
Weapons were found in the couple's home in Reading, and video of an experimental detonation as Rehman sought to perfect his design in their back garden.
Rehman called himself the "Silent bomber" on social media, and police believe he was planning the attack to coincide with the tenth anniversary of the London bombings in July.
His wife was found guilty of helping him to buy chemicals on e-bay. They were arrested when police believed they were on the point of carrying out their plan.