'Iraqi flag raised in Ramadi' as army seizes key government complex from ISIL
Comments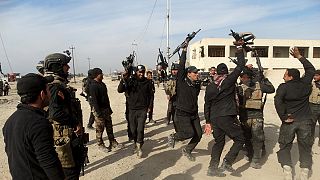 Iraqi soldiers are hailing a victory in Ramadi but fully retaking the city from ISIL also means securing its booby-trapped streets and flushing out extremist fighters.
Troops say they have seized the city centre, meeting no resistance now that the jihadists have abandoned a key government complex.
A military spokesman told state TV on Monday that Iraq's counter-terrorism forces had raised the Iraqi flag above the central government building seized from ISIL.
Some reports however speak of ISIL suicide bombers holed up and ready to strike.
The capture of Ramadi, the capital of mainly Sunni-Muslim Anbar province in the Euphrates River valley west of Baghdad, deprives ISIL militants of their biggest prize of 2015.
Iraqi army declares first major victory over Islamic State in Ramadi https://t.co/HepVQ82phNpic.twitter.com/bGhkjD4A34

— Reuters Top News (@Reuters) 28 Décembre 2015
They captured the city in May after government troops fled in what was seen as a major humiliation.
ISIL swept through a third of Iraq in June 2014. It declared a "caliphate" to rule over all Muslims from territory there and in Syria, carrying out mass killings and imposing a draconian form of Islam.
Its rise was aided by the swift collapse of the Iraqi army, which abandoned city after city, leaving fleets of armoured vehicles and other American weapons in the fighters' hands.
After encircling Ramadi for weeks, Iraqi forces, backed by US-led air strikes, have been waging a street by street, house by house campaign to clear and secure the city.
Unlike other battles, they have fought there without relying on Shi'ite militias backed by Iran. This decision was made to avoid sectarian tension with Ramadi's mainly Sunni population.
Iraq's government says the next target will be the northern city of Mosul, by far the largest population centre under ISIL control.