Spanish forest fires rage in Asturias region
Comments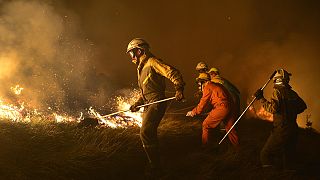 Dozens of forest fires raged across northern Spain on Sunday (December 27) after strong winds hindered efforts to keep them from spreading.
Some homes needed to be evacuated in the worst-affected Asturias region.
More than 100 fires were still burning on Sunday morning in Asturias alone despite rain overnight in some areas, emergency services said.
Winter fires are not all that rare in northern Spain, where they sometimes start when people burn piles of brush to clear their grazing land.
What is odd about this latest wave of blazes is that it happened much earlier in the season than usual.
Forest fires typically rage in February or March, when the snow has dried out.