Hundreds more troops sent to northern England amid severe flooding
Comments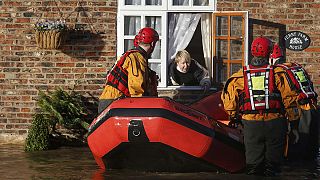 With northern England hit by "unprecedented" flooding, hundreds more military troops are being sent to areas under water.
Prime Minister David Cameron is vowing to do everything possible to protect people and their homes.
But some are asking the question: could any of the flooding have been prevented?
"Whether the flood defences would have stopped this happening, it's difficult to say. I think it's absolutely unprecedented, but what we need to do is plan to ensure that this doesn't happen again in the future," said one local official in West Yorkshire.
Up to a month's worth of rain has fallen across northern England in recent days. Lancashire and Yorkshire are badly hit, with problems in the cities of York, Leeds and Manchester.
No deaths or serious injuries have been reported, but hundreds have been evacuated from their homes – ruining their Christmas holidays.
More than a hundred flood warnings remained in place on Sunday, some of them severe, meaning there is a danger to life.
Accountancy firm PwC said the economic loss from the floods could be up to 1.7 billion euros, with the insurance industry bearing much of the cost.