900 migrants reach Italy as Renzi vows to support Libyan gov
Comments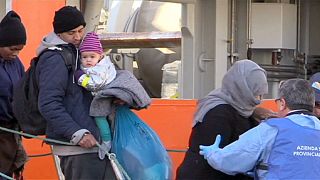 After three nights on a Norwegian rescue ship, some 900 migrants disembarked in the Italian port city of Palermo early on Monday morning.
More than one million migrants have reached Europe this year but almost 3,700 others died or went missing in the attempt.
These latest arrivals were rescued from boats off the coast of Libya in four operations over the Christmas period.
"The operation was very good; the Italian ships we met were very professional," Tore Barstad, commander of Norway's Siem Pilot rescue ship, told reporters in Palermo. "We have provided the migrants with food, blankets, water; we have a doctor and two nurses and a medic on board, so also their health has been taken care of."
Later on Monday, Italian Prime Minister Mateo Renzi met with Fayez el Sarraj, the head of Libya's new national unity government.
Renzi vowed to help rebuild the war-ravaged country and said military intervention remains a possibility.
Italy has seen record numbers of migrants arriving on its shores this year. The former colonial power also has significant economic interests in Libya.