Koala rescued from Australian bushfire
Comments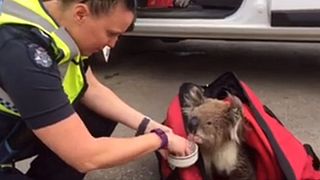 In Australia, where bushfires have ravaged the southern coastline of Great Ocean Road, some residents were allowed on Sunday (December 27) to return to their homes to assess the damage.
More than 100 properties have burned down, but no deaths have been reported.
One lucky survivor was a koala, which firefighters found unconscious by the side of the road.
Local police looked after the animal, which has since been nicknamed Constable K. Bear.