Israel shoots dead Palestinian brothers, aged 17 and 23
Comments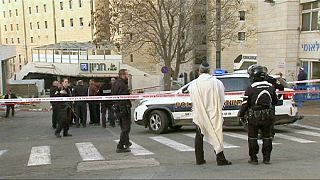 Israeli forces have killed two Palestinian brothers near the West Bank city of Nablus.
They were aged 17 and 23 according to the Palestinian health ministry.
The Israeli military said the youths had stabbed a soldier in the village of Hewara.
In three months, 20 Israelis and at least 130 Palestinians have been killed in the conflict.
Another young Palestinian was arrested after slightly wounding a soldier at a bus stop in Jerusalem.
Meanwhile the bodies of four Palestinians killed earlier in December have been repatriated.
Israel has refused to return bodies of dozens of Palestinians to their families.