Indian Ocean tsunami victims remembered 11 years on
Comments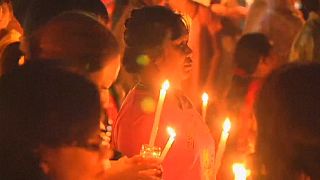 It has been eleven years since a massive earthquake under the Indian Ocean off Sumatra triggered tsunamis that killed tens of thousands in Sri Lanka, Indonesia, India, the Maldives, east Africa and here in Thailand.
Friends and relatives gathered at the Baan Nam Khem Tsunami Memorial Park to remember their loved ones.
This fishing village was one of the worst hit areas of Thailand. Almost every household lost at least one family member in the tsunami.
Indonesia bore the brunt of the damage from the disaster, with an estimated 160,000 deaths. Another half-million people were displaced.
In Thailand, more than 8,000people were reported dead or missing.
An Indian Ocean tsunami warning system was built in 2006 and was successful in warning residents when earthquakes hit the area six years later.