Top rebel commander killed in Syria strikes
Comments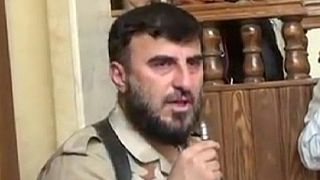 The leader of powerful rebel group Jaysh al Islam has been killed in strikes in a suburb east of Damascus.
The death of founder Zahroun Alloush and other senior commanders is a major blow for rebel control of Syria's Eastern Ghouta area.
The Saudi-backed group, whose name means Army of Islam, is one of the most powerful factions in Syria's civil war and a fierce enemy of the so-called Islamic State.
Earlier this month, it participated in opposition talks in Riyadh, which resulted in an framework for peace talks with the Assad regime.
But Assad's Russian ally considers the group a terrorist organization and rebel sources say Friday's strikes were carried out by Russian warplanes.
However the Syrian government says it was responsible for the attack that targeted the group's secret headquarters.