DNA dashes hope of Argentina activist searching for stolen child
Comments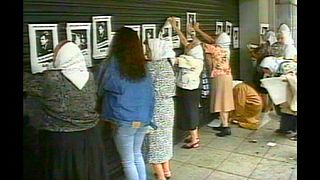 It was a Christmas fairy tale, and too good to be true.
On Christmas Eve, Argentina cheered as Maria "Chicha" Mariani, who has been searching for her granddaughter Clara for 39 years, was thought to have finally found her.
But two DNA tests showed that the woman she was reunited with is not her grandchild, officials said on Friday (December 25).
Último momento: La joven que se presentó como Clara Anahí, no es la nieta de Chicha Mariani Ampliaremos pic.twitter.com/E54ITOGLBO

— TN – Todo Noticias (@todonoticias) December 25, 2015
Clara Anahi Mariani is one of Argentina's "Stolen babies" – children snatched by the military dictatorship that ruled the country from 1976 to 1983. She was abducted at three months old when regime agents killed her mother.
Babies born in captivity to political prisoners or orphaned like Clara were given to families sympathetic to the regime.
Mariani founded the Grandmothers of May Square in 1977 and kept attention on Clara's case through a series of open letters.
On Christmas Eve a statement from the Anahi Foundation, which Mariani created in 1989 after stepping down as president of the Grandmothers group, said DNA testing had confirmed with 99.9 percent certainty that the woman identified as Clara was her granddaughter.
That DNA test was carried out privately by the woman, who has not been named.
[AHORA] #Visión7 – Chicha Mariani se reencontró con Clara Anahí > https://t.co/fnEKkuadQ9pic.twitter.com/gaj77RHbBS

— TV Pública – Canal 7 (@TV_Publica) December 25, 2015
However two DNA tests — one in early 2015 and the other made public Friday — shows no relationship between the two women, said Pablo Parenti, who heads the government office that searches for children kidnapped during the dictatorship.
An estimated 400 of Argentina's "stolen babies" are still missing today. And their grandmothers — many now in their 80s — are still searching.
La búsqueda continúa. Es una búsqueda colectiva y una política de Estado que hay que reforzar cada vez más.

— Pablo Parenti (@Pablo_Parenti) December 25, 2015