Unusual weather causes heavy snowfalls and blossoming flowers
Comments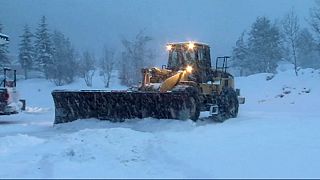 Some unusual weather from around the world.
USA
More than 63 centimeters of snow fell in just two days in some areas of Washington state.
The first big storm of the winter blanketed the Lake Tahoe area of Nevada with snow that had caused travel chaos for Christmas travellers.
One roadway was closed for nearly 24 hours.
Russia
Meanwhile in Moscow, snow completely disappeared from the city's streets as warm air moved into the European part of Russia.
An abnormally warm winter has brought flowers into blossom.
Several types of plants that usually wake up in the spring have started to vegetate prematurely.
China
While hazardous smoked choked Beijing on Friday with pollution levels exceeding the index. Neighbouring cities were also hit by heavy air pollution.
Weather forecasts say the pollution should ease from Saturday afternoon when a cold front in Beijing was hoped would disperse the smog.