Rebels could leave Yarmouk under UN-backed deal
Comments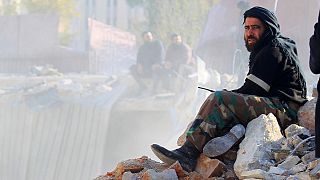 An agreement to give safe passage to militants and rebel fighters in southern Damascus could come into effect as soon as Friday, says the Syrian Observatory for Human Rights.
The aim of the UN-brokered deal is to regain access to the Yarmouk Palestinian refugee camp. The camp's 18,000 residents have been under siege for months and are in desperate need of aid.
Different factions, including al Qaeda, Jabbat al Nusra, and the so-called Islamic State control areas inside and outside the camp.
Earlier this year, UN Secretary General Ban-Ki Moon described Yarmouk as "the deepest circle of hell."
If the deal goes through, it would see ISIL fighters and their families given safe passage to the militants' stronghold of Raqqa.