Losses and gains in the battle to oust ISIL from key cities in Syria and Iraq
Comments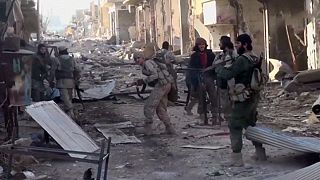 An offensive by the so-called Islamic State has reportedly led to the jihadist group taking over what was the government controlled district in the city.
It's claimed several suicide car bombings exploded in advance of the offensive.
Half of the city fell to rebels in 2012 but Syrian forces have held out in several districts of the city.
The provincial capital is the focus of a vast arid oil-producing region bordering Iraq. There forces are on the offensive to re-take the city of Ramadi from ISIL.
The battle to seize control from the militants is now in its third day. US officials have expressed their concerns at the delay in completing the mission.
The US Defense Department released a video from an airstrike on Monday in which sources say about 20 people were killed in the northern Iraqi city of Mosul. It said the airstrike targeted what it called a "Daesh fighting position" using the Arabic acronym for the Islamic State.
In a separate bombing mission US led coalition warplanes pounded positions held by the Islamic State in Ramadi according to the Iraqi military. The airstrike was part of what's believed to be the final action to push the militants from the city.