More Cumbrian floods as northern English rainfall breaks records
Comments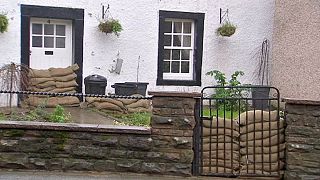 Parts of Cumbria have been flooded for the third time in a month as the north of England again suffers heavy storms.
Troops had to be deployed on Christmas Day to help evacuate the elderly and organise the response. In Appelby they were building new flood defences. This has been the wettest December since records began.
"Christmas is a lot different this year. Normally we would be spending at home it with our families home on leave, this year we are obviously helping other people," said one young infantryman.
More rain is expected through Saturday, during which the bad weather is expected to head into southern Scotland. Some 30 flood warnings are in place where rivers are dangerously swollen and risk bursting their banks.
Eighty-five percent of Britain's temporary flood barriers are now in use in Cumbria, along with four huge pumps that can move a ton of water a second. Some 20 others are also in action.
"It's made us all cry and we all just keep saying, 'It doesn't feel like Christmas'. You try to make the best of it, we're stuck in one room with a fake Christmas tree – we always normally have a real one. Everything is sort of mashed together to try and make it Christmas. But it's not the Christmas we'd normally have," said one stranded family.
Four the next three days people should be especially vigilant near the river Severn in Shropshire, Telford and Wrekin, and Worcestershire, and the river Ouse in York, which are threatening to overflow.