Erdogan dissuades Bosphorus Bridge jumper
Comments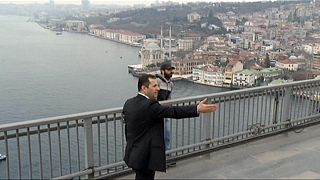 A dramatic scene on Istanbul's Bosphorus Bridge on Friday as Turkish President Erdogan dissuaded a man from committing suicide.
Erdogan motorcade happened to be crossing the bridge as the man was preparing to jump.
The president's bodyguards approached him and Erdogan spoke to him through his car window.
Turkish state media reports that the man, Vezir Catras, is from Turkey's eastern Siirt province and has family trouble.
Catras soon climbed back over the railing and spoke to Erdogan in his car, at one point kissing him on his hand.
Erdogan gave instructions for officials to solve the man's problems before driving off.