'Black Christmas' marchers demand Chicago mayor quits
Comments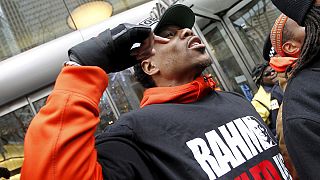 Demonstrators along Chicago's upscale Michigan Avenue in the US state of Illinois have disrupted Christmas shoppers to demand the city's Mayor Rahm Emanuel quit over what they say is his intentional covering up of police killings of black men.
Police gun down an average of 17 people every year, according to Reuters news agency.
"People stand together and make the new-found society to stop all of the police brutality that is going on in society," said one protester. "There is for many years, police have been terrorizing African Americans."
"Now we all have to be in fear," said another. "At anytime someone can plant a gun on me and say I was trying to shoot them as they shoot me. This is why I am in fear of my life."
Chicago has seen widespread protests since the release of a video showing last year's police killing of a black teenager.
The graphic footage taken from a dashcam shows 17-year-old Laquan McDonald being shot 16 times.
Officer Jason Van Dyke has been charged with first-degree murder. Police say McDonald had refused to drop a knife and that Van Dyke had feared for his life.
Emanuel has apologised for his handling of the fatal police shooting and has pledged to review police practices, but said he will not step down.
Chicago protesters demand mayor resign over #LaquanMcDonald shooting
https://t.co/OIe6RkS6wD
#ChicagoProtestspic.twitter.com/tSTwLunasP

— Sputnik (@SputnikInt) December 25, 2015
#BlackChristmas marchers now heading back s. on Michigan protesting RahmEmanuel</a> re: <a href="https://twitter.com/hashtag/LaquanMcDonald?src=hash">#LaquanMcDonald</a> <a href="https://twitter.com/WBEZ">WBEZpic.twitter.com/bgkO9B2aX8

— Yolanda Perdomo (@yolandanews) December 24, 2015
Quentin Tarantino Doubles Down on Cop Criticism, Calls Rahm Emanuel a 'Bad Apple' https://t.co/14RJdPo6R5pic.twitter.com/cf429Om8th

— TheWrap (@TheWrap) December 21, 2015