UN Security council backs Libya unity government
Comments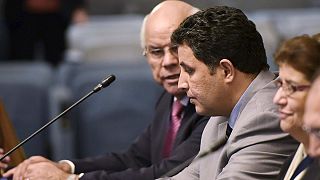 The United Nations Security Council has unanimously endorsed an agreement between Libya's warring factions to form a national unity government.
Four years after the fall of Muammar Gaddafi, the country is fractured and unstable, with competing authorities operating in Tripoli and the eastern city of Tobruk.
The leaders of the two rival parliaments already have rejected the UN deal, asking for more time to negotiate a Libyan initiative.
Libya's Ambassador to the UN, Ibrahim Dabbashi, said cooperation is the only way forward:
"This agreement is the only hope for the restoration of the authority of state and to ensure that Libya doesn't disappear as a unified sovereign state," he told the Security Council after the vote. "This is the only hope for emerging from chaos and putting and end to bloodshed, the only hope we have to ensure reconciliation and understanding, to ensure justice and the rule of law."
Last week's UN brokered agreement created the Presidency Council, which has 30-days to form a government. The council's first task will be to implement interim security measures and bring stability to the war-torn country.
Of immediate concern is the growing presence of the so-called Islamic State. But Ambassador Dabbashi said his country would not request Western air strikes against the militants. He said that lifting the current UN arms embargo against Libya was a priority so that the country could improve its defense capabilities.
UN diplomats and officials said privately they are worried the precarious agreement in Libya could fall apart in the coming days or weeks.