UN envoy calls for Libyan unity government by August
Comments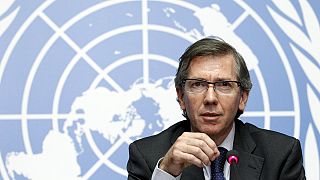 The UN's special envoy to Libya has called on the country's two rival governments to conclude a peace deal by the end of August.
Bernardino Leon told reporters during talks in Geneva that a unity government needs to be formed by the end of the month .
"What Libya is facing now, is a deeper chaos and division of the country. So I hope all the Libyan actors will be wise, to avoid this scenario, to expedite the talks andto reach an agreement very soon," he said.
Abdullah al-Thinni, the prime minister of Libya's internationally-recognised government, said in an interview on Tuesday that he would resign if asked to do so by the Libyan people.
His spokesman later told the Reuters news agency that al-Thinni plans to stay in his post.
Libya descended into chaos after the Western-backed ouster of Moammar Gaddafi in 2011.
Militias seized the Libyan capital Tripoli a year ago, forcing al-Thinni's administration to flee to the eastern port of Tirbruk.
The militias, operating under the name Libya Dawn, set up their own administration, leaving the country divided.
Terror group Islamic State have also seized territory inside Libya over the past year.