Migrant tragedy: at least 20 people drown in the Aegean Sea
Comments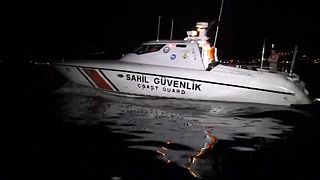 An overcrowded boat has sunk off the coast of Turkey, killing at least 20 people trying to make their way to Europe. The Turkish Coast Guard confirmed the death toll, which includes eleven children and one pregnant woman.
Some 21 people are said to have been rescued, so far.
Their boat capsized near Dakili, in Izmir Province, directly across from the Greek island of Lesbos – the first port of call for many migrants trying to reach the European Union.
Poor weather is believed to have been a factor in the sinking.
A day earlier, the Italian Navy intercepted a dinghy found to be in difficulty off the coast of Libya, another popular route for those trying to reach Europe. Around 104 people were rescued in that operation.
This just a day after the International Organization for Migration reported the number of people crossing into Europe illegally this year has surpassed one million.
Over 1M irregular #migrants & refugees arrived in Europe in 2015, highest since World War II https://t.co/46cVlFuwnqpic.twitter.com/btPCzUjCVq

— IOM (@IOM_news) December 22, 2015