Best of 2015: Annus Horribilis for FIFA and IAAF
Comments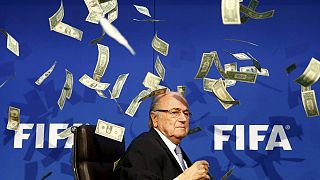 Annus horribilis – a horrible or disastrous year.
This Latin phrase can certainly be used to describe 2015 for two of sport's most powerful world governing bodies – FIFA and the IAAF.
After the great football corruption crisis came the great athletics doping disaster.
Scandals that have rocked these sports and their corridors of power to the core.
A sinking ship
Fifa started to seriously unravel in May when, at the time of the elections, Swiss authorities acting on behalf of the US Justice Department arrested several Fifa executives at a luxury hotel in Zurich.
An initial investigation into the controversial bidding process for the Russia 2018 and Qatar 2022 World Cups five years ago, was later broadened to cover FIFA's dodgy dealings going back two decades.
Throughout 2015 a whole host of Fifa officials and associates would be indicted by the US on charges of "rampant, systemic, and deep-rooted" corruption.
FIFA's very lucrative house of cards was beginning to collapse.
''The betrayal of trust that is set forth here is truly outrageous and the scale of the corruption alleged herein is unconscionable,'' said Attorney General of the United States, Loretta Lynch, of the FIFA scandal.
Graft investigations eventually reached the summit of the organisation and President Sepp Blatter.
A man whose teflon exterior has been blown away in a category five corruption storm along with any false hopes he had of steering a scandal-hit FIFA into a brighter and cleaner future.
That dubious role now belongs to someone else – the February 26 elections will tell us who.
#FIFA president Sepp Blatter has compared his treatment to the Spanish Inquisition https://t.co/l5Y8c7vrXDpic.twitter.com/CoSiAXU08q

— Sky News (@SkyNews) December 15, 2015
Running scared
Doping scandals are nothing new in Athletics, but when Lord Sebastien Coe replaced Lamine Diack as IAAF President in August he probably wasn't prepared for an unprecedented crisis that threatened to overwhelm the sport.
In a damning World anti-doping agency report, Russian Athletics was accused of wide-spread and ''state-sponsored'' doping.
Russia was consequently banned from all international competitions, including next year's Rio Olympics, until it becomes anti-doping code-compliant.
Sebastian Coe: no time frame is agreed for Russia's athletics return:

#russiaban#iaafpic.twitter.com/rFlzxDjSw7

— TheSportFeed.Com (@TSF_Com) November 30, 2015
The report also took a swipe at the IAAF which it described as being "inexplicably lax in following up suspicious blood profiles''
Just like FIFA, allegations of corruption went to the top.
Former president Diack was placed under investigation for allegedly accepting kickbacks to cover up positive doping offences and fund his own political advancement in his native Senegal.
Newly elected Lord Coe couldn't escape scrutiny either and faced increasing pressure for his role in the controversial awarding of the 2021 World Athletics Championships to Eugene, without a bidding process.
With the Olympic Games in Rio just around the corner World Athletics now finds itself in the ultimate uphill race to re-establish its credibilty.
19 Aug: Coe is elected President of IAAF. Describes Lamine Diack as "my spiritual president" https://t.co/pA2thMA3EJpic.twitter.com/BpyU8FxmSr

— Sports Integrity

SII

(@Sport_Integrity) December 2, 2015
A ray of sunshine in England
The year wasn't all doping doom and graft-ridden gloom.
The eighth edition of the Rugby World Cup offered a ray of sunshine in the middle of a dark period in sports history.
Twenty nations battled it out in England and Wales for the Webb Ellis Cup – only one would be crowned champions.
The Southern Hemisphere sides dominated proceedings, but a masterful All Blacks team topped of the lot to rewrite the history books.
All Blacks legend Richie McCaw led his men to an unprecedented second consecutive World Cup trophy following a thrilling tournament that saw beautiful running rugby, turnovers galore and a whole host of excellent tries, but no European nations in the last four – despite Scotland's courageous display against Australia in the quarters.
Rugby World Cup the 'most searched for' sporting event of 2015 – https://t.co/r7SO3alBcxpic.twitter.com/e7G5RrgCIP

— The Roar (@TheRoarSports) December 10, 2015
England's miserable campaign ended at the group stage – the first hosts to be eliminated at this stage.
Argentina, South Africa, who were stunned in their pool opener by Japan, Australia and New Zealand made up the semi-finalists but a ruthless Kiwis side were on a mission.
A mission they completed by eventually holding off a fierce comeback by Australia in the final at Twickenham to beat the Wallabies and become the first team ever to retain the Webb Ellis Cup.
What now?
Despite a stunning rugby World Cup and other exciting tournaments, 2015 will be remembered more as a year of chaos and crisis in sport.
2016 now looks set to be a year of reform and rebuilding so that hopefully the main focus can return to the field of play.