Spain's political parties search for a deal to form a government
Comments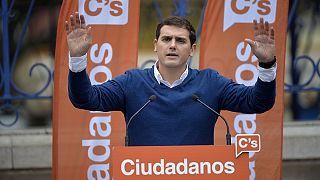 The political jigsaw pieces in Spain are left spread on the table. No clear picture has emerged despite the leader of the liberal Ciudadanos believing he can put in place some of the corner pieces.
Remember they are the new boys on the block and in the four-way election recorded the lowest percentage of votes. But they are ready for a coalition with two of the others.
"We feel it's the moment to seal a deal so that no matter what the government ends up being, or the parliamentary majority ends up being or what happens in the future, we are going to seal a deal between the Socialist Party, a democratic liberal party and a conservative party. That way the large political spectrum which represents the vast majority of Spaniards can guarantee that the union of Spaniards is not in jeopardy," told journalists.
No response from the Socialist party on that idea but a firm no to any support for the acting Prime Minister Mariano Rajoy. In a meeting described as "brief" it emerged the two party system, socialist and conservatives who alternated in government since the end of the dictatorship in 1977 is certainly history. Change is the political buzz word from the left.
"The re-run of the elections is the last option and the Socialist Party will explore all the possibilities to that there is a government of change, dialogue and a government that will provide stability in our country," is the view expressed by Pedro Sanchez the Socialist Party leader.
And consider Podemos – the far left – who unlike the others back the Catalans call for a referendum on Spain.
Time too is a critical factor. A failure to back a party leader when Spain's parliament reconvenes in January will signal fresh elections two months later.