Erdogan vows to continue fight against PKK
Comments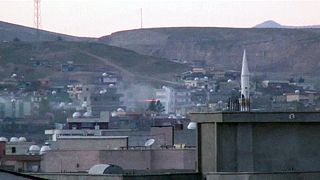 Fighting continued in the Turkish town of Cizre Wednesday, as government forces shelled buildings they say were being used by the outlawed Kurdistan Workers Party, or PKK.
Turkish security forces launched a large-scale offensive across the country's majority-Kurdish southeast last week, placing the towns of Cizre and Slopi under 24-hour curfew.
State media reports that 168 militants have been killed, while pro-Kurdish sources say at least 24 civilians have died.
Speaking in Ankara on Wednesday, Turkish President Recep Tayipp Erdogan was unrepentant:
"The fight against separatist terror organizations will continue until the end without hesitation," he said.
The region's largest city, Diyarbakir, has also seen fierce battles – and equally fierce protests.
On Tuesday, Turkish police in the city used tear gas and water canons against demonstrators protesting the latest security operations.
Nearly 2,000 people have been killed since a two-year ceasefire between Turkish authorities and the PKK collapsed in July.