Police search offices of Putin critic Mikhail Khodorkovsky
Comments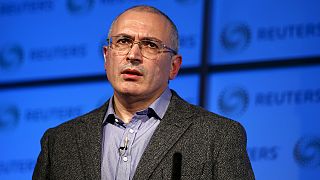 Russian police have raided the offices of the pro-democracy movement founded by Kremlin critic Mikhail Khodorkovsky, less than two weeks after he was accused of organising a contract killing.
Vladimir Markin, a spokesman for Russia's Investigative committee, said the raid related to a case against against Khordorkovsky in 2003 surrounding the illegal privatisation of a firm.
Khodorkovsky, who used to controlled Yukos oil company and was once Russia's richest man, said the raids were reminiscent of the Soviet era and were linked to comments he made against President Vladimir Putin.
"The decay had entered its final stage," he told the Echo Moskvy radio station, "We are all familiar with this from the time of [Soviet leader Leonid] Brezhnev."
Khodorkovsky has denied the allegations.