Panama: supreme court orders detention of ex-President Martinelli
Comments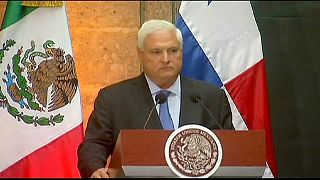 Panama's Supreme Court has ordered the provisional detention of former president Ricardo Martinelli amid accusations he illegally spied on his opponents.
The multimillionaire supermarket magnate is alleged to have intercepted the communications of around 150 people during his 2009 to 2014 term in office.
Martinelli denies the charges.
Out of Panama since January, he responded to the ruling via Twitter, calling it the "first round of a political trial."
Round 1 de juicio politico: sin estar en expediente, sin imputaciòn, sin debida notificaciòn y sin condena se ordena detencion provisional.

— Ricardo Martinelli (@rmartinelli) December 22, 2015
The 63 year old has been stripped of his immunity from prosecution in the case.
Prosecuting attorney Marco Antonio Bernal praised the decision.
"I think it is a good thing that in this country, not just former presidents, as in Martinelli's case, but also ministers, members of congress and anyone who tramples on the dignity of the people of Panama, that they have to be brought to justice for their actions. Enough of the impunity that we've seen in this country for decades."
The detention was ordered after the former leader was found to be in contempt for failing to appear at a court hearing.
Martinelli claims he is the target of persecution by his predecessor, Juan Carlos Varela.