Spain's future unclear as Rajoy loses majority
Comments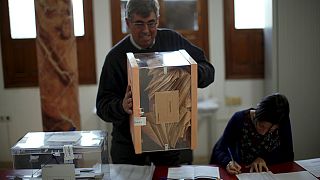 The political duopoly that has ruled Spain for decades has been broken as new parties split the vote in the country's general election.
Although incumbent prime minister Mariano Rajoy's People's Party secured a comfortable lead over their traditional rivals the Socialists, they fell well short of a majority.
Since Spain's transition to democracy in the 1970s one of those two parties has been in power.
Podemos on the left and Ciudadanos in the centre gathered enough votes to change the dynamic: yet neither emerged in a position to be a kingmaker, suggesting the country is in for weeks or months of complex negotiations.
Another election remains a possibility:
Latest results
Follow our live coverage of the results, reaction and analysis below.