Independence issue weighs heavily on the minds of voters in Catalonia
Comments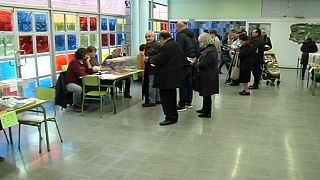 For voters turning out to the polls in Spain's Catalonia region, the issue of independence is high up the agenda.
The national parties have been struggling to come up with proposals to appease the separatist movement.
Last month pro-independence Catalan lawmakers approved a resolution to launch a process for independence, but it was then annulled by Spain's Constitutional Court.
One man in Barcelona told euronews: "We are voting now for the national parliament but for me the most important election was on September 27th, the regional ballot in Catalonia."
A woman said: "There are a lot of people undecided until the last minute. I think there will be some changes."
Another woman said: "The current situation is so tense and unpleasant here that a change is needed, a change for the better."
There is now a deadlock in Catalonia. Despite the resistance in Madrid to independence, the regional government in Barcelona has vowed that its plan will stay on track.
Euronews' correspondent in Barcelona, Cristina Giner, says for the first time the formation of a government is not so reliant on the votes for the regional parties in Catalonia and the Basque region.
She also says the polls will show whether the political deadlock in Catalonia will take its toll on the pro-independence parties.