Blatter and Platini launch an appeal against their eight-year bans from football
Comments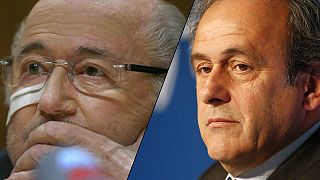 They have been slapped with an eight-year ban from football, but Sepp Blatter and Michel Platini have already vowed to launch an appeal.
The FIFA President and head of UEFA were also fined for ethics violations over a big payment made to Platini, but still maintain their innocence.
Blatter said: "By saying it's a bribe, this is totally wrong and I am sure at the next level, at the next step being the Board of Appeal of FIFA, or then the TAS (Tribunal Arbitral du Sport), they will change that because that's not true.
"Never in my life, never in my life, would I offer money to get something."
FIFA's ethics committee began investigating after Swiss prosecutors opened a criminal investigation into the payment made to Platini.
David Bernstein, the former England Football Chairman, said: "Blatter has presided over a corrupt organisation, there's no question of that, but Platini's record is very different.
"He's a fine man of football, he was in a very strong position until recently, UEFA are a very clean organisation as far as I know, so he's got caught out."
The FIFA ethics committee said while it found no evidence the payment in question was a bribe, there was a lack of transparency and a conflict of interest.