FIFA-gate: Platini is 'biggest loser,' says analyst
Comments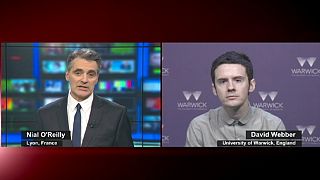 The banning of Sepp Blatter and Michel Platini has rocked the world of football.
They have been found guilty of breaching FIFA's code of ethics over a 1.7 million euro payment made to Platini in 2011 and have been suspended for eight years.
Both have denied any wrongdoing. They say the money was for consultancy work by Platini.
Euronews reporter Nial O'Reilly discussed the bans with football economist Dr David Webber, from Warwick University in England.
euronews: "Is there anything about this outcome that surprises you?"
David Webber: "I don't think anything at all surprises me either about the outcome itself, that Blatter and Platini have been found guilty.
"And I think an awful lot of credit should go to the FIFA ethics committee for actually showing a little bit of teeth this time and reaching this verdict.
"And it doesn't surprise either that Blatter is still maintaining and protesting his innocence. He's fighting right to the end, it's obviously going to go to an appeal, an arbitration process and that is just going further drag this process out, still further."
euronews: This will likely spell the end for Blatter in football, but will Michel Platini be able to survive in some way in the world game?
David Webber: "Yeah, I think in many respects, Platini here is the biggest loser. He has got the most to lose here, he was very much concerned about six months ago, expected to be the man to take over from Blatter in his mantel, as FIFA president, and I just think given now the, should the appeal fail, then Platini really stands to lose out. And I think his response is going to be really interesting.
"Now whether or not Platini decides to hold his hands up and say look, I have made a series of of really unfortunate mistakes, I'm sorry for those, and whether he tries to pitch his way back into the governing structures, whether that's in Europe or indeed within FIFA, that remains to be seen. But I think you're absolutely right, Platini really stands to lose the most from this decision."
euronews: "Platini had been tipped at one point to take over from Blatter. Of all the remaining presidential candidates, who is best suited to taking the governing body forward do you think?"
David Webber: "I will be honest with you. I really don't think that there is one stand out candidate. None of the candidates have really said, or spoken properly, about the language of not necessarily reform, but just pulling apart the structure and starting again."