'Fake bomb' forces Air France flight into emergency landing
Comments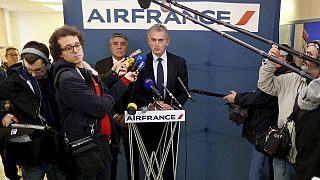 A bomb scare that forced an Air France flight into an emergency landing in Kenya on Sunday (December 20) turned out to be a hoax.
Flight AF 463 from Mauritius to Paris was diverted and evacuated at Mombasa airport after a passenger found a suspicious item in the toilets.
The package was taken away for examination. It turned out it was a fake bomb made of cardboard and a timer, the French airline said.
Air France bomb scare package was 'fake made of paper, cardboard and a household timer'
https://t.co/6v0G8ES3o7pic.twitter.com/YJlSOTBALw

— HuffPost UK (@HuffPostUK) December 20, 2015
The Boeing 777, with more than 470 people on board, had been checked before take-off, Air France said.
"As usual the crew had carried out a safety check of all the cupboards in all the lavatories, including where the suspicious package was found," the airline's chief executive, Frédéric Gagey, told reporters.
Asked if the device was placed in the restroom during the flight, Gagey said that sounded like the most plausible scenario, but did not give more details.
The pilots decided to land at the nearest airport, in Kenya. The plane was evacuated using the emergency slides. Some passengers were later questioned by Kenyan police.
It's the third Air France plane bound for Paris to be diverted over a bomb scare since the attacks that killed 130 people in the French capital last month.