Former IAAF president Diack took bribes to cover up positive drug tests
Comments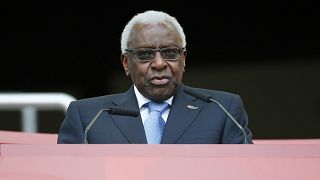 Former IAAF president Lamine Diack has admitted on Friday he asked Russia for €1.5 million to fund a political opposition party and cover up positive doping tests, according to the French newspaper Le Monde.
France's national office for financial prosecutions is currently investigating Diack, who earlier this year stepped down as head of world athletics, over allegations of corruption and money-laundering.
The national police say he received large sums of money to blackmail Russian athletes through a corrupt scheme in exchange for hushing up positive drug tests.
Russia was suspended last month from international athletics following the publication of a World Anti-Doping Agency (WADA) report which alleged widespread, state-sponsored doping in the country.
Its athletes are as a result ineligible to compete at next year's Rio Olympics unless the federation can clean up its act within the next eight months.
Le Monde claimed it had obtained the transcripts of Diack's interviews with police, where he admits to approaching former Russian athletics president and IAAF treasurer Valentin Balakhnichev for funds to finance the Senegalese political opposition party.
"I told him to win the elections, I needed about 1.5 million euros," Diack said, according to Le Monde. "He said to me, 'We'll try to find it, no problem."'
"At that time there were these problems of suspensding Russian athletes a couple months before the world championships in Russia. We came to an agreement. Russia paid. It was Balakhnichev who organised all of this."
Balakchinev denied to Le Monde such conversations had take place with Diack.
"Neither I nor my federation was implicated in such a discussion or affair with Mr. Diack. This type of business is not in our interest or within our power,"Le Monde quoted him as saying.
"We cannot interfere in the internal affairs of Senegal."
A WADA spokesperson confirmed to Euronews this development is now under investigation by the panel which produced the damming report, and would not comment until their next press conference.
It is understood the link between doping tests cover-ups and the funding for the Senegalese opposition party was not one WADA had previously investigated.
Elsewhere, the IAAF ethics committee concluded their three-day hearing in London into allegations of ethics code violations by several high-profile officials.
Balakchinev, Diack's son Papa Massata Diack, former IAAF anti-doping director Gabriel Dolle and Russia's former head long-distance coach, Alexei Melnikov, could face lifetime bans if found guilty of covering up positive doping tests.
A decision is expected in January.