US arms deal with Taiwan sparks sanctions threat from China
Comments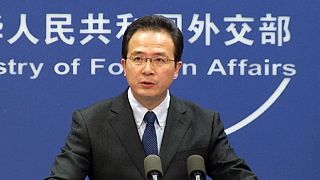 A US arms deal with Taiwan worth around 1.8 billion euros including two warships and anti-tank missiles has sparked a fresh row with China which considers Taiwan as a renegade province.
The sale comes amid strained relations between Washington and China over Beijing's policy of building man-made islands, seen as exerting expansive territorial claims.
China summoned a senior US envoy in protest at the deal and made what's been described as "solemn representations".
"The United States companies involved in weapon sales to Taiwan gravely undermine China's sovereignty and security interests. The Chinese government and companies will by no means carry out cooperation and business exchanges with such companies," Hong Lei Chinese Ministry of Foreign Affairs spokesman told reporters.
Taiwan's defence ministry said the military hardware would be phased in over a number of years.
Washington stressed the deal was based solely on Taiwan's defence needs.
It is the first such arms agreement between the two countries for more than four years.
Previous Chinese sanction threats have not been followed up by Beijing.