UN Security Council adopts resolution to cut off ISIL revenue
Comments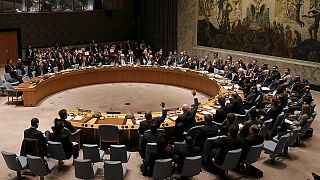 Finance ministers of the United Nations Security Council have unanimously adopted a resolution designed to cut off financing to the self-styled Islamic State.
The US and Russian-drafted proposal aims to block the revenue the Islamist group makes from oil and antiquities sales and other illegal activity. It also urges countries to stop paying ransom for kidnapped citizens.
Ban Ki-moon calls for concrete action to shut down funding channels for terrorist groups https://t.co/VdUU3E7vWIpic.twitter.com/M8cXDVReeP

— United Nations (@UN) December 17, 2015
UN Secretary General, Ban Ki-moon spoke at the Security Council's first ever meeting at Finance Ministers' level:
"They (terrorists) are agile and have been too far too successful in obtaining resources for the heinous acts. Just as terrorist groups are innovating and diversifying; the international community must stay ahead of the curve to combat money laundering and the financing of terrorism."
Advice is offered on implementing the resolution to incite more countries to take action against terrorist organisations.
Sanctions are also threatened on anyone supporting IS – also known as ISIL – or their offshoots.
With an estimated monthly revenue of
around 73 million euros the militant group is thought to be the world's wealthiest.