Tutankhamun's mask is back on display in all its splendor
Comments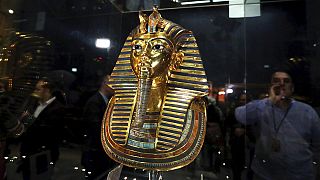 The magnificent gold mask of Tutankhamun is back on display at the Egyptian Museum in Cairo after a two-month-long repair job by German experts.
Last year the boy pharaoh's beard fell off when the priceless artefact was removed from its display case. Museum employees re-attached it with glue…apparently without success.
Stephan Seidlmayer who is Director of the Cairo Department at the German Archaeological Institute explained that the restoration required painstaking research:
"It is not just to undertaking some technical restoration but first its really to understand the object in it's original character. That means the materials it's made from, and the technologies which were used … at the time. Only if you understand how the object in the first place was made can you choose a way of restoration and conservation in harmony with the original character of the object."
The restoration included a 3D scan of the mask as well as warming it to allow the glue to be removed from the first attempt to repair it.
The mask is a top attraction at the museum, which has hundreds of items from Tutankhamun's tomb, found by British archaeologist Howard Carter in 1922 in Luxor's Valley of the Kings.
Euronews correspondent Mohammed Shaikhibrahim said that discovering these priceless relics is a major task in the first place but once found their preservation from damage or all kinds and indeed protection from theft are just as challenging in a country where a large part of its antiquities are still buried underground.
#IsraeltheRegion#TalesoftheTimes#Tutankhamun King Tut's mask back on display after beard glued back on https://t.co/k79o11uY1i

— Israel News (@IsraelNewsNow) December 17, 2015