IMF chief Christine Lagarde vows to fight negligence trial
Comments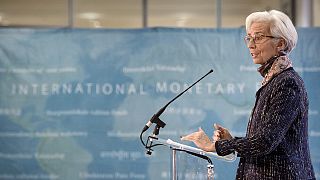 Christine Lagarde, the head of the IMF, says she will be appealing a decision by a French court that she stands trial for her role in the payment of 404 million euros (437 US dollars) to French businessman Bernard Tapie.
The case dates back more than 20 years and will be heard at the Cour de Justice de la Republique, which judges ministers for crimes in office, France's prosecutor general said.
Lagarde is accused of negligence over her role in the Tapie affair when she was the French finance minister.
The decision came as a surprise to her legal team, as France's top prosecutor had previously recommended that the case against the IMF chief be dropped.
Yves Repiquet, Lagarde`s lawyer, said: "The prosecutor said there was no case against Lagarde but the judge has disregarded this.
"This decision was taken in disregard of the facts, of the documents of the trial record and of the recommendations of the prosecution authority. It is therefore incomprehensible."
The ruling concerns the compensation Tapie received from the French government after selling his stake in the sports company Adidas to Crédit Lyonnais in 1993.
He claimed the bank had defrauded him after it later resold his stake for a much higher sum.
His case was referred to an arbitration panel by Lagarde.
The panel later subsequently awarded Tapie the money, which caused a public outcry.
Earlier this month, a French court dismissed his demand for a further payout of more than a billion euros ordering him instead to pay back the original compensation.
IMF Spokesman: IMF Board continues to express confidence in Lagarde's ability to effectively carry out her duties. pic.twitter.com/FkIFwcuieX

—

IMF

(@IMFNews) December 17, 2015