European markets welcome Federal Reserve's US interest rate rise
Comments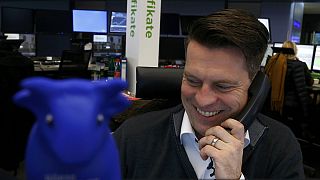 European shares surged on Thursday following the US Federal Reserve's interest rate rise, as investors took the move as a sign of confidence in the world's biggest economy.
Markets in London, Frankfurt and Paris were all up amid talk of an end of year rally. The euro fell against the dollar.
The Fed made it clear that the quarter-of-one-percent hike was the beginning of a gradual tightening cycle.
"It was very well received mostly because it had been expected. And the expectations management had been excellent and financial markets like that, when you fulfil really the expectations. This rate move is quite smooth and had been well received," said David Kohl, Chief Economist for Germany for the Swiss Bank Julius Baer.
The car industry, banking and insurance were among sectors which gained after the rate hike.
But the prices of major industrial metals fell: the stronger dollar makes them more expensive for holders of other currencies.
It's thought that come the New Year, markets may again turn volatile in anticipation of the next rate rise.