Russia unveils plan to try to prevent young people from joining ISIL
Comments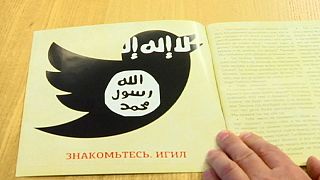 Russia has put into place a plan to try to prevent its young citizens from being recruited by radical organisations such as ISIL.
The Civic Chamber's "Resistance to the Islamic State Recruiters" project has published a brochure to help adults recognise when young people are being targeted for enlistment.
"We noticed that there have been many new converts recently. Former atheists, mostly. Young people feel disappointed and there is kind of a deceptive romanticism that appeals, that a fight between good and evil is going on… But it (the anti-ISIL brochure) shows that in reality it's a business," said Yelena Sutormina, one of the authors of the brochure.
The Islamists rely heavily on social media and other modern means to entice young people.
Recruitment to ISIL is now also becoming a problem for central Russia, according to the Civic Chamber.
Previously, regions with a predominantly Muslim population, such as the North Caucasus, had been the group's main focus.
In an Associated Press report published in November, 2015, indigenous Muslims living in the Russian Federation said their families suffer sustained harassment from the authorities, who are wary of insurgents.
The Islamists rely heavily on social media to entice young people