Italy: 'Puppeteer' former Masonic lodge head Licio Gelli dies, 96
Comments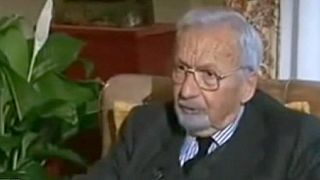 Liccio Gelli, the former head of Italy's outlawed P2 Masonic lodge, has died, at the age of 96.
Nicknamed 'The Puppeteer', he has been linked to some of Italy's shadiest incidents in modern times.
During his time as head of the secretive P2, he was believed to have held a powerful influence over a network of officials within the government, the intelligence services, the military, the financial sector and the media.
All are thought to have been involved in covert anti-Communist and anti-democratic operations.
Over the years, the former financier was convicted on a number of counts of conspiracy and tax fraud.
He was linked to cases such as the Banco Ambrosiano bankruptcy, the deadly 1985 Bologna train station
bombing and the 1978 murder of former Italian prime minister Aldo Moro.
The P2 was outlawed upon discovery in 1981.
Gelli died at home in Arezzo, central Italy.
Prince of darkness: P2 freemason and loyal fascist Licio Gelli dies at 96 https://t.co/o2WBL4rPsKpic.twitter.com/3JvfGQ21Je

— MaltaToday (@maltatoday) December 16, 2015