Colombian government and FARC rebels sign agreement
Comments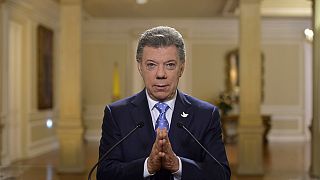 Representatives of the Colombian government and the leftist FARC rebels have signed an agreement which could put peace talks back on track to end the five-decade long armed conflict.
Under the agreement special tribunals will be created to try former combatants once a final peace deal is signed.
"This is the first peace agreement in Colombia that has not been sealed with a general amnesty for all those involved in the conflict, but rather with the creation of a special jurisdiction for peace," explained Ivan Marquez, lead FARC negotiator.
Journalist Jineth Bedoya who was kidnapped and raped by pro-government paramilitaries was one of 3000 victims who took part in the 18 month process.
"Our backing of the peace process does not mean that we renounce justice, reparation and above all, truth," she asserted.
The accord will create a truth commission to clarify the events of the war and search for thousands of missing people, identify their remains and return them.
"Where does one draw the line between justice and peace to end an armed conflict? It has always been the most complex issue and today an agreement was announced about this issue and above all, the issue of the victims. It is a very important step to be able to end the conflict soon," stressed Columbian President Juan Manuel Santos
The fighting has cost the lives of 220,000 people and displaced millions. The accord signed in Havana will see the courts reducing sentences for those who admit guilt.
Doubts of the terms of punishment have caused concern in some quarters in Colombia.
The agreement has helped revive the chances of reaching a March 23rd deadline for a plan to end the war.