Britain's Prince Charles gets copies of cabinet papers
Comments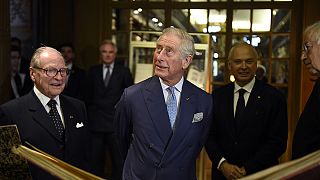 Britain's Prince Charles has been receiving copies of confidential cabinet papers for decades. The news has come to light after a freedom of information battle.
Charles who has previously been criticised for meddling in politics, is sent the papers along with the Queen.
The campaign group "Republic" says there is no legitimate need. The group has written to Prime Minister David Cameron saying, "it is plainly wrong that Charles can lobby on new policy proposals even before the public are aware of the existence of such proposals."
A Cabinet Office spokesman said: "It has been established practice for many years that the sovereign and the heir to the throne receive the minutes of cabinet meetings.
Earlier this year, following another Freedom of Information Act battle, the so-called "black spider letters" sent by the prince to ministers were released. Sent over a number of years, the letters covered a range of issues including conservation and homeopathy.