Saudi Arabia elects women councillors for the first time
Comments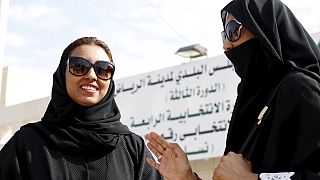 As many as 20 women have been elected in municipal polls in Saudi Arabia after a ban on women voting and running as candidates was lifted.
It's being seen as a landmark in the conservative kingdom where women are barred from driving and are legally dependent on a male relative to approve almost all their major life decisions.
A total of 978 women registered as candidates, alongside nearly 6,000 men, while Officials said about 130,000 women had registered to vote in Saturday's poll, compared with 1.35 million men.
Saudi voters elect 20 women for
local government seats, a day after women voted & ran in elections for first time pic.twitter.com/yyzpxh3kWZ

—

TIMES

NOW

(@TimesNow) December 14, 2015
Businesswoman Rasha Hefzi who won a seat in the city of Jeddah believes the election will bring forth change:
"Dealing first hand with the council's files, the needs of the citizen, the files that – like we said – were previously out of reach of women, will enable her to become more qualified to deal with other subjects in the future," said Rasha Hefzi.
"I see a better future for Saudi women in the coming years, but we still need a lot of support and a lot of work is ahead of us," she added.
The decision to allow women to take part in the vote was taken by the late King Abdullah, who died in January, and is seen as a key part of his legacy. He also took steps for women to have a bigger public role, sending more of them to university and encouraging female employment.
Before Abdullah announced women would take part in this year's elections, Saudi Arabia's Grand Mufti, its most senior religious figure, described women's involvement in politics as " opening the door to evil".
Elections of any kind are rare in the Saudi kingdom – Saturday was only the third time in history that Saudis had gone to the polls.
The result is better than analysts expected considering female candidates were not allowed to address male voters directly during campaigning.
While many consider the vote as a step forward despite the municipal councils having limited powers, critics say it was just window dressing for the West.