Watch: dramatic scenes as MP sets off smoke bomb in Kosovo parliament
Comments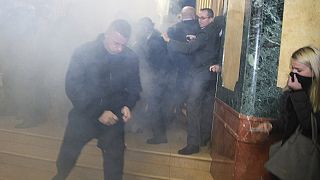 An opposition lawmaker in Kosovo appears to have set off a smoke bomb in parliament to disrupt a session.
It's the third such incident in just two months by opposition MPs who are against an EU-brokered deals to improve relations between neighbouring Serbia and its former southern province.
The smoke forced lawmakers to evacuate the building while some opposition supporters rallied outside the building.
After previous interruptions, some reporters had prepared for another with gas masks.
Police in Pristina dispersed supporters of the opposition MPs who were throwing stones and paint outside the parliament building.
The opposition coalition has said no session will be held until the government renounces a deal with Serbia that gives greater rights to Serbs living in northern Kosovo.
Kosovo declared independence from Serbia in 2008, a decade after NATO airstrikes drove out Serbian forces from Kosovo. That halted massacres and expulsion of ethnic Albanian civilians during a two-year brutal counterinsurgency campaign.
Serbia has refused to recognise Kosovo's secession.