At least two people killed during clashes in Diyarbakir, Turkey
Comments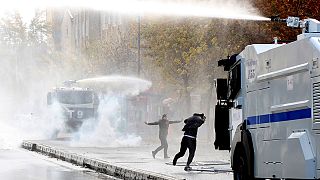 At least two people have been killed during clashes in the majority Kurdish city of Diyarbakir in southeast Turkey.
Thousands were protesting against a government-imposed curfew as security forces battle Kurdish militants.
Hundreds of people have been killed since a ceasefire between the Kurdistan Workers Party, or PKK, and Turkish security forces collapsed in July.
Turkish police fired water cannon and tear gas to break up protesters trying to march to Sur district to denounce the curfew.
The current government crackdown came after PKK fighters attacked a Turkish military base, then threatened to attack dam construction projects in the southeast of the country.
The PKK has been designated a terrorist group by Turkey, the US and European Union. It launched an insurgency in the 1980s. More than 40,000 people have been killed in the conflict.