Deadly blast in Pakistan kills at least 10
Comments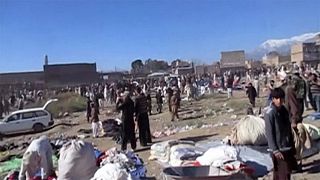 A bomb blast has targeted a crowded clothes market in Pakistan. Sources vary as to the number killed in the explosion which happened in the northwestern city of Parachinar near the border with Afghanistan.
City officials say ten died including a child while over 50 were injured.
No group has as yet claimed responsibility for the attack. The area has a large Shi'ite population and locals had expressed fears that militias who splintered from the Taliban and sworn allegiance to the so-called Islamic State might target them.
The area has a history of sectarian violence between Shia and Sunni Muslims, and agreements to calm tensions between communities have not been implemented.
Some of the shoppers suffered injuries due to a stampede after the explosion one health official said. They were taken to Parachinar Hospital but some were in a critical condition and would have to be transferred to Peshawar for better treatment, the official added.