US: Muslim advocacy group offices evacuated amid security alerts
Comments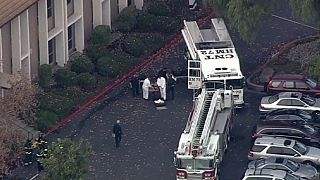 A Muslim advocacy group has evacuated its headquarters in Washington and an office in California after a letter containing powder was received at each of them.
The letter received by the Council on American-Islamic Relations (CAIR) in Washington is said to have also had a note that read "Die a painful death, Muslims."
Staff were later allowed to re-enter the headquarters after authorities conducted preliminary tests and deemed the substance harmless.
In California, a CAIR branch office in the Bay Area city of Santa Clara, was also evacuated on Thursday after receiving an envelope with an unknown powder inside.
Further details were not available because local authorities could not immediately be reached.
Law enforcement authorities and Muslim communities around the US have braced themselves for a rise in anti-Muslim sentiment after last week's shootings in California.
The incidents also occurred days after Republican presidential front-runner Donald Trump proposed temporarily banning Muslims from entering America, sparking outrage in the nation and around the globe.