UN Human Rights Day sees protests, detentions in Cuba
Comments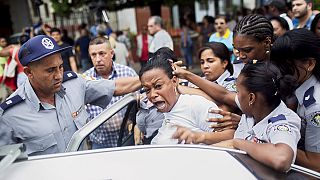 Police made at least six arrests in Havana and dissidents claimed at least 100 nationwide in Cuba.
The capital saw scuffles but little more on the UN's Human Rights Day.
The Ladies in White dissident group organised a demonstration at a busy square near the entrance to the popular Coppelia ice cream parlour, but few of its members turned up at the location.
Dissidents
report that they are typically detained at home or en-route to protests, before any public confrontation.
Más de 100 detenidos en #Cuba en el día de los derechos humanos https://t.co/3glF4H3gQupic.twitter.com/UFWFvGqSEn

— el Nuevo Herald (@elnuevoherald) December 10, 2015
Police and protesters tussled in plain view of journalists as they have each 10 December in recent years. As usual, pro-government counter-demonstrators hurled insults at them as the protesters were shoved into patrol cars and taken away.
The clashes briefly interrupted traffic and led to pushing and shouting, but there were no noticeable injuries.
However the dissident Human Rights Commission reports more than 1400 short-term detentions in November, the highest for five years.