The 2015 Billabong Pipe Masters in Hawaii
Comments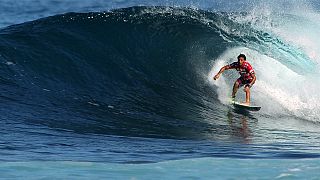 America's C.J. Hobgood produced a stunning performance to post the only 10-point ride of the day at the Billabong Pipe Masters in Hawaii.
The 36-year-old, who announced he would retire at the end of the season, earned the highest heat total of 14.97 giving him a major boost ahead of round two.
Following Owen Wright's withdrawal from competition earlier this morning, the 2015 World Title is now down to five contenders including Australia's Mick Fanning who edged out 2001 Pipe Master Bruce Irons.