More deadly clashes in West Bank as Israel battles to quell unrest
Comments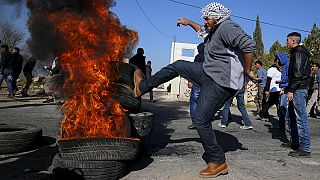 The West Bank has suffered another day of violence with at least three Palestinians killed by Israeli security forces.
In Hebron a 22-year-old man was shot dead. His sister had been killed the previous month after pulling knife on an Israeli soldier.
Dozens of people were injured in the clashes according to medical sources.
Clashes also erupted near Ramallah in Silwad, and in Bethlehem, where police were bombarded with stones.
Clashes also erupted on the Gaza border, where one man was killed and at least five injured after stoning police.
One of the worst attacks followed the unrest in Hebron, when a man was shot dead after he tried to ram into an Israeli checkpoint in his car. The surrounding area has become a focal point for protests in this latest outbreak of unrest which has now lasted more than two months, costing 20 Jewish, and more than 110 Palestinian lives.