Coalition infighting spills into Ukraine parliament as allies tussle
Comments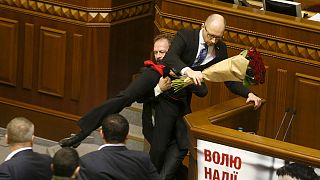 Ukraine's President Poroshenko meets his prime minister late on Friday with the future of their coalition government looking creaky.
It follows a member of the Poroshenko Bloc manhandling Arseny Yatsenyuk away from the microphone in parliament. He was then rescued by members of his People's Front party, who set about his assailant, "Oleh Barna":
http://www.kyivpost.com/article/content/ukraine-politics/barna-involved-in-rada-brawl-says-he-leaves-petro-poroshenko-bloc-in-parliament-404015.html.
Opposition to Yatsenyuk and his government is growing as the country struggles to cope without any functioning industry. The economy is collapsing, and corruption appears to be as ingrained as ever.
Public impatience is mounting, and public protests in front of the Ukrainian parliament have a nasty habit of getting very big very quickly.