And also...Russia's free wifi plan for cemeteries, Adele sparks a storm in Turkey and a Greek cling film car drama
Comments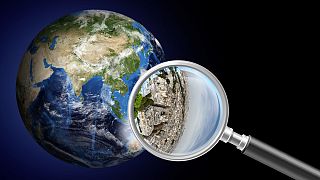 Every Friday journalists from euronews' various language teams choose a selection of stories from Europe and beyond which did not reach the international headlines
Moscow's free wifi cemetery plan for this life and beyond
Authorities in the Russian capital, Moscow, have announced that from next year free Wi-Fi will be available at the city's three main cemeteries, Vagankovo, Troyekurovo and Novodevichy.
The aim is to attract more visitors to the popular tourist spots where many famous Russian figures have been laid to rest. It is thought visitors will stay longer at the sites if they can remain in touch with the living.
As reported by the Washington Post
---
"Turkey: Is Adele song inspired from Ahmet Kaya?" debates social media
A song from Adele's latest album "25" has sparked a storm on social media with opinion divided over whether the tune resembles a song by iconic Turkish singer Ahmet Kaya.
Turkish music lovers were stunned by the similarity between Kaya's "Acılara tutunmak" (clinging to pain) and Adele's "Million years ago", a song from the Briton's first album in five-years.
The once-demonised Kurdish singer passed away some 15 years ago.
Here is a video with the two songs
---
USA

: Grumpy Cat meets wax copy at Madame Tussauds in California

Grumpy Cat fans can now worship the feline internet star forever. Madame Tussauds wax museum in San Francisco, California has made an animatronic copy which means it moves with the help of an electromechanical device.

Grumpy Cat, whose real name is Tardar Sauce, showed little or no emotion when it met its fluffy doppelganger, but she did inspect the model with a few sniffs and posed for photographers with her trademark frown.
Grumpy Cat brings signature scowl to San Francisco's MadameTussauds</a> <a href="https://t.co/42lFSBkpGx">https://t.co/42lFSBkpGx</a> <a href="https://t.co/Lmy4MzVfgV">pic.twitter.com/Lmy4MzVfgV</a></p>&mdash; NBC Bay Area (nbcbayarea) December 9, 2015
---
Greece: Streetpanthers attack Thessaloniki
The Greek citizen's rights activist group Streetpanthers used plastic on the prowl this week. With the use of lots of cling-film, they prayed on illegally and badly parked cars in the city centre that were blocking access for disabled people and pedestrians.
Owners who had left their vehicles on pavements or wheelchair ramps found them wrapped up and cocoon like with huge red letters pointing out their mistakes.
streetpanthers</a> in <a href="https://twitter.com/hashtag/Greece?src=hash">#Greece</a>: <a href="https://twitter.com/hashtag/Christmas?src=hash">#Christmas</a> <a href="https://twitter.com/hashtag/decorations?src=hash">#decorations</a> 4 those who take up <a href="https://twitter.com/hashtag/disability?src=hash">#disability</a> <a href="https://twitter.com/hashtag/parking?src=hash">#parking</a> <a href="https://t.co/xXwprvfAGI">https://t.co/xXwprvfAGI</a> <a href="https://t.co/GCqQTsenfh">pic.twitter.com/GCqQTsenfh</a></p>&mdash; Proto Thema English (eprotothema) December 7, 2015
Σκέψου πόσο δυσκολεύεις τη ζωή των συμπολιτών σου. #skg#StreetPantherspic.twitter.com/C3feVKREdA

— TheKoulWay (@TheKoulWay) December 6, 2015
Οι Streetpanthers «τιμωρούν» όσους παρκάρουν παράνομα https://t.co/covacSUEvtpic.twitter.com/IVscN19TFD

— Enachannel (@Enachannel1) December 7, 2015
---
Barcelona: protesters strip for 'blood-soaked' anti-leather demo
Around 200 people stripped off and daubed themselves in fake blood to protest over the use of animal skins in clothing. The naked demonstration took place in Plaza Catalunya in the heart of Barcelona.
Animal rights activists stage naked protest in Barcelona

#animalrights#protest#Barcelona#newspic.twitter.com/SszRBl2jlz

— Luis do Amaral (@LuisdoAmaral) December 9, 2014
---
Hungary: taxmen snares Santa
Goodwill to all men did not extend to a St. Nicholas impersonator penalised by Hungarian tax authorities for failing to declare his earnings after making a "surprise" house call.
The impersonator claims authorities posed as parents and asked him to make a house call, as is traditional in Hungary on December 6, but then nabbed him for tax evasion after he did not present a bill for his work. The man said he did not think he had to as he only does the job once a year.
As reported by Budapest Business Journal
---
SOURCES